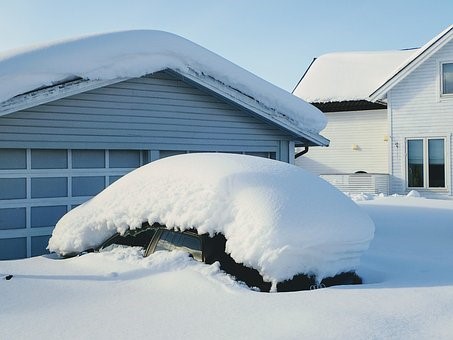 Courtesy of Pixabay.com.
Contributed by Cindy Aldridge
Homeowners who assume that it's crazy to try to sell a home in the fall or winter are selling themselves short, and possibly shutting themselves off from a good deal just when they need one. It's true that fall and winter typically mean fewer buyers and fewer sales, but these seasons don't mean you can't sell your home. On the contrary, the real estate "off season" can be an ideal time to place a home on the market. Buyers tend to be more motivated and more willing to meet your asking price than in the spring or summer. You may have to work a little harder to pull it off, but the payoff can make it all worthwhile. Here are a few tips to help you cover some of the off-season home-staging basics.
Keep it clear
If you live in a cold northern region, snow and ice are a fact of life for a solid 6 months out of the year. When your kids have to wear snow boots to go trick or treating, you can expect to need a snow shovel if you're selling your property late in the year. Keep it handy, because potential buyers who have to trudge through 4 or 5 inches of snow and ice to get to your front door may not leave with a favorable first impression, and keeping your walkway clear ensures you won't have to worry about possible liability complications. (If you're older or have back issues, it might be worthwhile to hire a snow removal company.)
Curb appeal
Curb appeal still matters in fall and winter, and anything you can do to spruce up your home's exterior will help. Consider putting in a winter garden featuring witch hazel or holly, lovely shrubs that add a touch of color at a time when it's most needed.
Price it right
It's understandable when sellers get a little nervous about selling when there are fewer buyers, especially if it's important to close a deal by the end of the year. But be careful not to sell yourself short. Why? For one thing, because buyers usually have a good reason for wanting to buy so late in the year. It might be because of a job relocation, due to a lease expiration, or for contractual reasons. Whatever the motive, they need and want to get a deal done, so don't low-ball when you don't have to. By the same token, don't over-price and risk losing the right buyer at a great price. Just because buyers are motivated doesn't mean they're not savvy or willing to pay more than they can afford.
Keep those windows clean
The leaves are off the trees and sunlight is streaming through your windows during the day, which means dirty, grimy, debris-ridden windows will be a prominent feature, one that buyers can't miss. Be diligent about keeping your windows clean and free of obstructions from the yard. Make sure all your leaves have been raked and disposed of so they don't accumulate on window sills and make windows (which should be a major selling point) look dirty and unappealing.
Keep your web profile up to date
Fall and winter aren't ideal seasons for portraying a home in its most favorable visual light, so homeowners are sometimes tempted to post pictures taken in May or July, showing a beautiful house with green grass, pretty flowers and lush green foliage. The only problem is that such images are a far cry from the reality of winter, and a property that may well be covered in snow and ice. Savvy buyers tend to pay attention to such things, and outdated pictures can make them suspicious that something's wrong and your house isn't selling because of it.
There's no reason to believe that your home can't sell in the fall or winter. A properly-priced home that's well cared for and effectively staged can get you the deal you'd hoped for. Remember, the rules of staging a home are the same in fall and winter as they are in warmer, greener seasons.

Courtesy of Pixabay.com.
About the Author:
Cindy is a freelance writer and dog lover. She started Ourdogfriends.org as a fun side project for herself and to educate pet owners and potential pet owners about how dogs can enrich our lives. She enjoys writing about dogs and pet ownership.